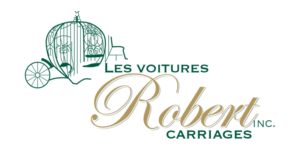 We love to hear from our customers and we love for them to send us pictures.
Below is a photo gallery of some of our happy customers having a good time or celebrating a special event with a carriage we built just for them. If you too would like to share some photos of your carriage, simple email them to us at info@voituresrobert.com.
Make sure to keep the images at a reasonable size, preferably no more than 600 by 400 pixels. We'll be sure to post them on our photo gallery the next time we update the site.
"Hi Ann!  Sandy Bos here!
I got the carriage today and I absolutely LOVE IT!!! Wow! Wow! Wow! The size is perfect! Thank you, thank you, thank you!
A very happy customer!
Sincerely; Sandy Bos"