Poles
Complete pole kit (includes telescopic pole, neck yoke and double tree)
Available in 4 sizes;  draft, horse, pony and miniature. Regular or heavy duty.
T of pole
Tip/end of pole
Double tree
Neck yoke
Forecart pole kit
Hitch wagon hook up for 2, 4, 6, 8 horses
Shafts
Shaft kit in 5 sizes
Miniature size (made to order)
6′ pony
7′ horse
8′ draft
9′ extra large draft
Independent shafts
Telescopic shafts
Wood shafts
Show cart shafts
Forecart shafts
Single tree ( wood or metal )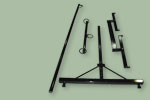 Pour placer votre commande de pièces ou si vous avez besoin de plus de renseignements au sujet d'une pièce en particulier, veuillez nous téléphoner aux numéros indiqués ci-dessous.